Tess's Kitchen Cooking Classes: FRENCH SAUCES PART 11, BROWN SAUCES

FRENCH SAUCES PART 11, BROWN SAUCES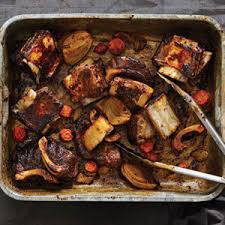 FRENCH SAUCES PART 11, BROWN SAUCES
Many people feel that the meat-based brown sauces are the peak achievement of French cooking.

The most important ingredient is a well-made

Beef Stock, rich with marrow bones.

We will turn this into a "simple"

Brown Sauce,

which has many uses, especially as a base for many more elaborate sauces, including

Sauce Diable, with shallot, white wine and black pepper,

Sauce Robert, with onion, wine and mustard,

and

Sauce Brune à l'Estragon with shallots, wine and fresh herbs.
$70
Alan Tangren
Tess's Kitchen
115 Mill Street Grass Valley